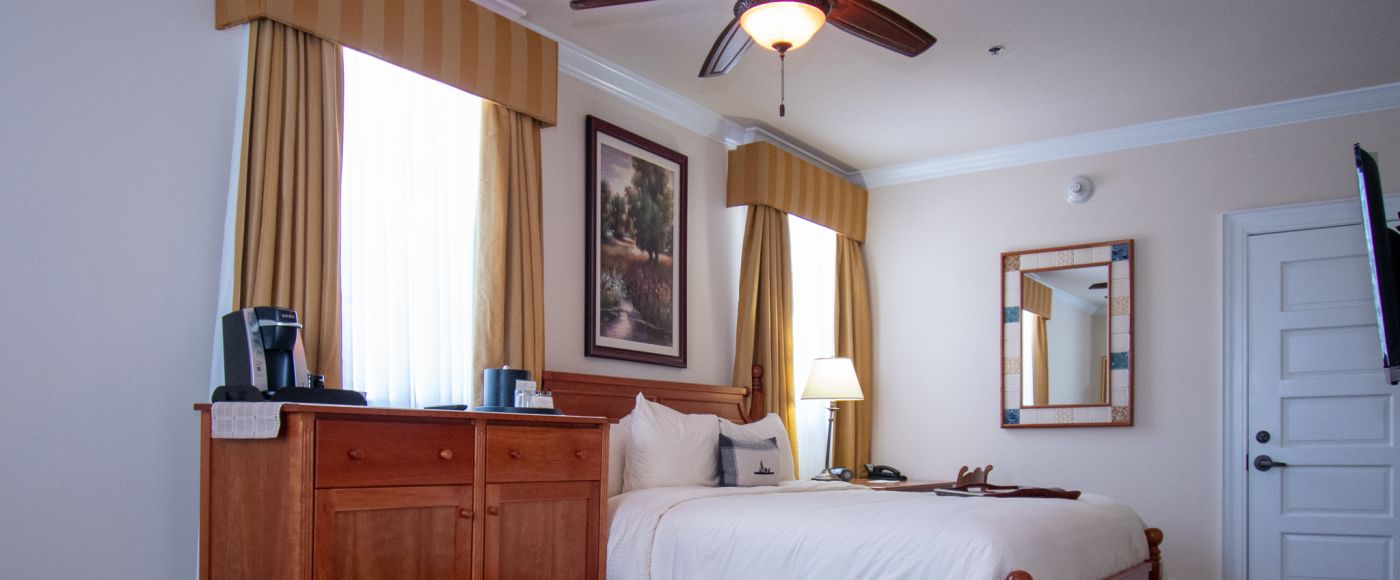 Bridal and Executive Suite
Most Memorable Amenities for Our Guests
When you open the door, using a real key, to our lovely Executive Suite you know you're in a beautiful historic home. The room has timeless wooden furniture handmade by the students of Berea College, a ceiling fan, a closet reminiscent of the time period in which the hotel was built, spacious comfortable seating area to relax and modern appliances such as flat-screen TV and Keurig Coffee Maker. Most rooms have lovely views of the town of Berea and Berea College's charming Campus. The windows open so you can take in the sights and southern breeze.
At the Historic Boone Tavern, there are 2 Executive Suites; each has a king-sized mattress bed and can accommodate up to 2 adults. One suite has enough space for a rollaway cot. Please contact the front desk to check availability.
The Executive Suites are not handicapped accessible in compliance with ADA but there are other rooms types that are. Please contact the front desk and they can check availability for these rooms.
One Executive Suite connects to a Scholar Full Guestroom and the other connects to a beautiful Parlor seating area. The Parlor can be reserved for special occasions. Please contact the Sales Department for availability and information.
As with all the guestroom types, the Executive King Suite has all the furnishings of home plus more:
Individually controlled AC and ceiling fan
Master switch to conserve energy
Berea College student handcrafted furniture
Personal hair dryers
Wireless internet connection
Keurig Coffee Maker
Flat-screen TV
Refrigerator
Closet and Berea College crafted armoire to store clothing and personal items
All-natural bathroom amenities
Jacuzzi tub and separate shower
Cozy robe and slippers
Mosaic tiled mirror handcrafted by Berea College Crafts
Woven baskets – handcrafted by Berea College Crafts
Luxurious towel warmer
Most guestrooms have a desk work station
Available items on requests:
Rollaway cot ($10 per night)
Crib (no charge)
Iron and Ironing board (no charge)
Pet Policy: We are a pet-friendly hotel. There is a one-time fee of $75.00 per stay and guests are required to sign a pet policy upon check-in. Pet Policy
ADA Guestrooms are available in several of our room types. To reserve an ADA guestroom, please call the hotel directly to make your reservation request.